Last Updated on January 23, 2022 by Griselda M.
What size crate for a Yorkie is recommended you wonder? Find the absolute answer in this article, deep dive into this reading!
Yorkies are a small breed of dog so, they don't require large space. For a Yorkie, it's best to get a crate that suits its size. In other words, because of their tiny size, they don't need a special and large kennel.
When picking a crate for a Yorkie, don't oversee the other factors such as the material or the crate look. So, find out more about the best Yorkie cage below!
How To Pick The Best Yorkie Cage?
The size of the dog cage you choose for your canine partner might make or break your crate training program. Understanding how to choose the best crate for your Yorkie puppy is essential.
A dog crate isn't the same as a dog cage. They aren't traps for your pet; rather, they are private rooms that your dog might regard as a house within a home! If you prefer, think of it as an indoor dog kennel with a door. You may also cage train your dog to aid them with separation anxiety and housebreaking.
The sizes of the Yorkie crates range from small to room-sized. You must know your Yorkie's correct size and its needs to select the appropriate cage size for it.
Measure from the top of your dog's shoulders to their paws to determine their size. This is how tall they are. Next, measure from the tip of the snout to the tail's tip. However, we are talking about Yorkies, so we know they are toy-sized dogs.
This is how long they are. The dog crate should be spacious enough for them to stand up and sit comfortably in, with a door that they can climb through.
Because most cage specifications are stated in imperial rather than metric, measure your dog in inches. Add a few more inches if you're adding a dog bed or pillow inside the Yorkie cage.
For Yorkie and other breeds which are under 25lb the recommended crate size is from 18 to 25inches. However, measure your Yorkie width, height, and weight. That way, you will be sure which one to purchase. Yorkie owners tend to pick a variety of sizes. So, it's up to you which one you get.
Read more about 3 Best Crates For Yorkies – Provide Comfort To Your Yorkie.
Differences Between A Yorkie Cage And Yorkie Kennel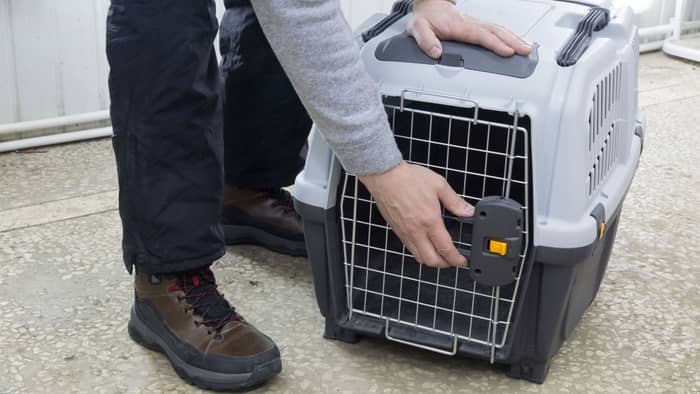 Usually, when talking about a Yorkie cage we think of an indoor metal box. The purpose is to give your Yorkie a place which they will feel safe and won't have the possibility of trashing other parts of your home.
On the other hand, a Yorkie kennel is more like an outdoor house for your pet. They are mainly made of hard materials which give a bigger safety to your Yorkie. The Yorkie kennel has better isolation than a Yorkie cage and provides comfiness and is going to keep your Yorkie warm. It looks like a mini house.
Material-wise, Yorkie crates or cages can come into two types. The first one is a metal Yorkie crate which is good if your Yorkie wants to gaze around the house. The negative side is that there is a possibility of your Yorkie getting hurt. Why is that? Well, Yorkies have small jaws so, it's easy for them to gnaw the wires.
So, there are soft plastic Yorkie crates. These can lower the risk of injuries and usually have safety measures where the plastic can sometimes be covered in rubber. In other words, they are safer if your Yorkie is still a puppy and still has the gnawing habit.
How Long Can A Yorkie Stay In A Crate?
Depending on how well you trained the Yorkie, it can stay in a crate for at least half of a day. This must be accompanied by regular walks at least two to three times. Many owners choose to put their Yorkie in a crate while they are at work and when it's bedtime for your Yorkie.
Remember to not use the Yorkie crate as some type of jail or punishment. Train them to feel that the crate is their home, make them feel like something personal to them.
If your Yorkie starts to whine and has anxiety while it's in the crate, try to go for a walk or take them out and comfort them.
When To Pick A Yorkie Pet Carrier?
If you travel regularly, you must own a Yorkie pet carrier. However, your Yorkie must tolerate being carried around first before you make this purchase.
Another time when you should consider a Yorkie carrier is if you need carrying your Yorkie to work with you. So, a Yorkie pet carrier is a good thing to own. There are many other situations when you will need a pet carrier.
When going out for a coffee
Going to a veterinarian appointment
If the weather is cold or wet
If the Yorkie fears some situation
So, we can conclude that a Yorkie carrier is a piece of good equipment if you own a Yorkie, but what makes a good Yorkie carrier?
How Should The Best Yorkie Pet Carrier Look Like?
The Yorkie carrier should be lightweight and simple to operate. As the owner, you should select a carrier that is suitable for the Yorkie. Yorkies are little dogs; thus, large carriers are unnecessary. However, not every Yorkie is alike. It's critical to focus on getting the perfect one for your beloved Yorkie.
If you're going to purchase one from the internet, make sure it's the right size for your Yorkie. Many owners anticipate this and opt for attractive carriers, so focus on finding practical Yorkie carriers.
Other attributes which you should consider are the softness of the carrier, the quality, anti-allergenic, and the capability of keeping your Yorkie warm.
Final Thoughts
We can conclude that every Yorkie is different and has various needs. The size of the crate should be large enough for your Yorkie to feel safe and comfortable. Try to aim for safety measures before purchasing one.
For a Yorkie, the crate should not be extremely big, get a crate that will make them feel at home and lets them get around with ease. Try to fill it with toys and soft materials.
If you have any other thoughts, comment below and share them!