Last Updated on January 15, 2022 by Griselda M.
Owning a Yorkie is one of the best decisions you have made. The possibility of carrying your Yorkie with you is beautiful. That includes choosing a variety of Yorkie purse carriers. But, you have to figure out which one you should pick.
Dog purse carriers should be easy to use, fit perfectly for your dog's size and weight and look good as well. Before making the final choice, you need to research the market and pick the one that fits the most.
We will go deeply into which dog purse for Yorkie you should purchase and include the best ones.
What Attributes Should Yorkie Purse Carriers Have?
The Yorkie carrier should be compact and easy to use. You, as an owner, should choose a carrier that is comfortable for the Yorkie. Yorkies are tiny dogs, they don't need massive carriers. However, not all Yorkies are the same. Focusing on owning the right one for your dog is essential.
Whenever you plan to order one from the internet, choose one that fits your Yorkie the best. Many owners tend to foresee this and go for fashionable carriers, so focus on purchasing convenient Yorkie carriers.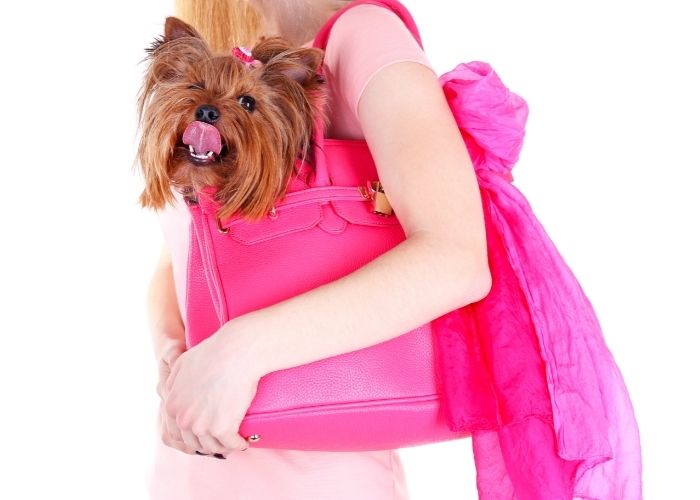 Best Yorkie Purse Carriers
1.     Amazon Basics Soft-Sided Mesh Pet Carrier
First, in the list, we have the Amazon-Basics Soft-Sided travel carrier. It's the most reviewed carrier on Amazon.
Manufactured in three sizes: L, M, and S. For Yorkies, the small one is the best fit for obvious reasons. It can hold a max load of up to 7.9 lbs. When selecting a carrier, always find the best fit based on your Yorkie weight and height.
The Amazon Basics carrier comes with safety measures. Adjustable length is achievable with the seatbelt and luggage strap, as well as the shoulder strap.
The removable bottom is launderable, making it easier to keep the carrier sterile. That way, your Yorkie won't get infections. It's made from fleece fabric to keep it comfortable for your Yorkie.
Washing the bottom in cool water with mild detergent is recommended. Mesh ventilation is available on all four sides, keeping your Yorkie refreshed at any time.
Dimension wise the carrier has a length of 13.8 inches, while width and height are 8.7 inches. Cause of the wireframe, Amazon Basics carrier is in airline under-seat standards.
2.     Sherpa Deluxe – Airline Approved Dog Carrier
The next one on the list is Sherpa Deluxe. It's perfect for adventurous traveling or comfortable tours by plane or car. Same as the Amazon Basics, the wireframe can compress. That way, you wouldn't have issues with the under-seat requirements.
Additional Sherpa Deluxe carrier has a side pocket, helping you store treats, leash, bags, or anything your Yorkie needs.
The entry points can be locked while keeping your Yorkie safe. The design includes an adjustable belt strap. The bottom faux lambskin liner is washable, making it easy to clean.
No surplus room, making this carrier extra safe for your Yorkie. Most airlines accept Sherpa Deluxe. Weight-wise, it can withhold as much as 8lbs. Proportions are with a length of 15 inches, a width of 7.5 inches, and a height of 8.5 inches.
3.     Cuddlissimo -Sling Yorkie Purse Carriers
The Cuddlissimo has a different design than the previous two. Creddilissimo Yorkie carrier has a handsfree design. That way, you are free to do something else, keeping your Yorkie close.
In an aspect of material, it's very soft, with padded straps. The breathable mesh keeps your Yorkie cool and comfortable.
It's designed with a safety hook measure, connecting it with the collar.
That way keeping your furry friend protected, without the ability to jump out. Extra safety measures include drawstring opening and locking zipper.
The Cuddlissimo has an adjustable neck opening, making it a good fit for every Yorkie. It can withhold up to six pounds.
4.     PetAmi – Airline Approved Yorkie Carry Bag
This slick and soft pet carrier fits all small dogs that are up to 12 lb. It has a dimension of 17 inches in length, 8 inches in width, and 11 inches in height.
Built-in a way to ensure constant airflow while you travel. The entire top opens so you can conveniently put your Yorkie, while the zipped cover provides privacy. This Yorkie carrier includes a water bowl, helping your dog stay hydrated in your travels.
PetAmi is equipped with a safety hook and zipper, securing your Yorkie and preventing the possibility for it to escape. The adjustable wireframe prevents the bag from collapsing, making your Yorkie comfortable in any situation.
Long and versatile straps allow you to carry the PetAmi on your shoulder or even by hand. Includes a side and front pockets, giving you the ability to take snacks or any essential supply you need.
The colorway of this bag is astonishing. It comes in five colors, and we must say all of them look fresh. The most fashionable bag on the list is PetAmi. Increased durability is achieved by the 600D high-grade polyester, making it a long-lasting experience.
5.     PetPeppy – Premium Airline Approved Carrier
The dual-side expansion is an excellent attribute to this carrier. That provides extra room to your Yorkie, as well as the capability to sprawl out. Mesh lining included as well. That way, your Yorkie can see your face and be calm.
Overheating is not an option with PetPeppy. The breathable mesh can maintain continuous fresh air circulation.
The wireframe protects the carrier. There are two zipper flaps for convenient access, as well as side pockets for additional storage.
PetPeppy has two additional types, the first one being Flex & Roll Carrier. That carrier includes wheels and a handle to remove added shoulder weight. The second one is Flex Plus Carrier, and it features a tunnel. Yorkies enjoy the playful time, so the second one is an excellent fit for them.
The maximum pet weight is fourteen pounds. Dimensions wise it's 18 inches in length,11 inches in width, and height without extensions.
Which Yorkie Purse Carrier Suits Your Furry Friend?
Purchasing dog purses for Yorkies is a fun process. When choosing,  consider the measurements of your Yorkie, as well the comfort. Did any of these carriers get your glimpse?
We hope you enjoyed reading about these Yorkie carriers. We would love our reader's feedback in the comment section, so feel free to comment below.
Read more about What Size Crate For A Yorkie – Pick The Best One
Learn more about Do Yorkies Like To Cuddle?