Last Updated on January 23, 2022 by Griselda M.
The best crates for Yorkies are the ones that fit with your lifestyle at best. If you wonder how to choose the best crate, read this article!
Every owner of a Yorkie should consider owning a crate for their Yorkie. The best crates are the ones that are the most compatible in your household. Other than that, many factors play a big part in choosing the perfect crate.
Another reason why you need a crate for your Yorkie is the housetraining process. Choosing the best crate for your Yorkie will be beneficial in this process. So, we will help you with the choice of purchasing the best crate!
Choosing The Perfect Dog Crates For Small Dogs
Getting a Yorkie crate is a great option for safety, convenience, and training. With so many Yorkie crates on the market, it's easy to become overwhelmed when deciding which one is ideal for your dog's size, kind, functionality, comfort, and price.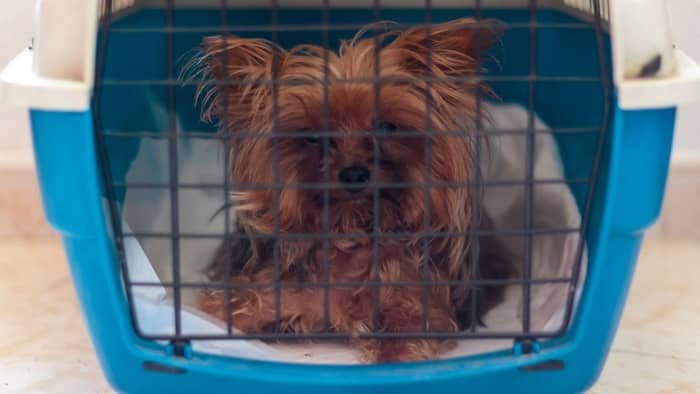 The size of your Yorkie
The sort of dog crate you choose will get determined by the size of your Yorkie. Extra-large dog crates, giant dog crates, medium dog crates, and tiny dog crates are the ones that are available on the online market. Before making a purchase, determine your dog's height and length.
In most situations, dog crate manufacturers will provide a detailed description of the sizes available so that any pet owner looking to buy one can make an informed decision. These descriptions take the format as LxWxH or LengthxWidthxHeight (LWH).
To establish your dog's size, measure from the top of their shoulders to their paws. Next, measure from the snout's tip to the tail's tip. However, because we're talking about Yorkies, we already know they're little dogs. So, that leads us toward choosing a smaller Yorkie crate.
The Yorkie dog crate should have enough room for them to stand and sit comfortably, as well as a door that enables them to crawl through.
Quality of the crate – Material-wise options
Yorkie crates or cages are available in two different types of materials. The first one is the wired metal design Yorkie crate, which is useful if your Yorkie likes to look around and helps them reduce their anxiety.
On the bad side, there's a chance your Yorkie will get injured. What is the reason behind this? Yorkies have tiny jaws, so gnawing the wires is easier for them if the crate is metal.
Best Crate For Yorkie Puppy
Soft plastic Yorkie crates are available also. These can reduce the danger of injury and come with safety features such as rubberized plastic edges. In other words, if your Yorkie is still a puppy and has chewing behavior, this option is safer for them.
So, the best crate for a Yorkie puppy is the one that has safety measures and is not too big. Your Yorkie for sure will gnaw and chew around. In other words, a crate with removable rubber coating parts which are intended for Yorkie puppies is the best choice you can go.
Yorkie Dog Carriers – Flexibility When You Travel
The Yorkie carrier should be lightweight and simple to operate. As the owner, you should select a carrier that is suitable for the Yorkie. Yorkies are little dogs who do not require large carriers. On the other hand, all Yorkies don't mature equally. It's critical to focus on getting the perfect one for your dog.
If you're going to purchase one from the internet, make sure it's the right size for your Yorkie. Many owners foresee this and go for attractive carriers, so focus on finding practical Yorkie carriers.
Best Crates For Yorkies
Here we will list some of our best dog crates for small dogs so, you can choose one of the following:
The MidWest crate comes in many sizes and styles. The best ones for Yorkies are the 24-inch with divider and the 18-inch crates. On the other hand, the style depends on your choice. We would recommend the double door style which can provide more accessibility for your Yorkie.
The recommended ones come in a proportion of 24inches in length, 18inches/24inches in width, and 19inches in height. This crate provides proper visibility and fresh air ventilation with the help of the wiring design.
It has a secure slide bolt, so you won't need to worry about your Yorkie when you are not at home. Another thing to mention is that it comes in three colorways: black, pink, and blue.
MidWest crate is one of the best crates for a Yorkie because of the modular design and the easy fold-down mechanism. That way you can carry this crate outside of your house if you need to. The pricing of this crate starts from 37$ and upward.
The New World Pet Products Metal Crate provides low thresholds on the huge swing-open doors for easy entry and exit from it.
And the wire design provides for sufficient ventilation and visibility, while the secure, easy-to-operate slide-bolt closures offer a safe and dependable containment environment for your dog.
This crate joins in the best crates for Yorkies list because of the easily foldable mechanism. Comes in many sizes but for a Yorkie, we recommend the 24-inch one. You can choose between two styles when it comes to this crate, the single or double door.
Other features and benefits of the New World Pet Products Metal Crate are:
Protective, long-lasting black E-coat finish
Rounded corners for safety
Easy to assemble
This crate is simple to use and if you add a mattress to it, you will make it the most comfortable place for your Yorkie friend. The price is between 30$ and 40$, depending on the seller.
The Carlson Single Door Dog Crate provides your pet with a secure, den-like environment. The sturdy crate has one front door and a multi-point locking mechanism, which keeps your pet safe and gives you peace of mind. The wire container folds virtually flat for mobility, making it easy to transport and store.
It's versatile since it can be folded flat for travel or storage.
It's simple to use: There's only one door, which makes getting in and out a breeze. A multi-point lock is included for further security.
It's durable and simple to clean: The removable bottom tray helps for a quick and easy cleanup.
This crate comes in only one size, which is the most suitable for Yorkies. The measurements are 24inches x 18inches x 19inches as the LWH standard dictates. This crate is by far the simplest one and easy to use, and we are sure that your Yorkie will love it.
Final Thoughts On The Best Crates For Yorkies
So, we listed one of the best crates for Yorkies out there and we hope we help you in choosing the best one for your Yorkie. The crate plays a big part in the life of your Yorkie. So, before purchasing one think of it as a home for your beloved pet.
Every Yorkie is different and has individual needs. So, buy a crate that can be modified for those needs or already fulfills them.
If you have any other thoughts, comment below and share them!