Last Updated on December 30, 2021 by Griselda M.
If you want cute girl Yorkie names, you are at the right place! We will aggregate many choices for you, making this naming process easy and convenient!
When giving the name to your beloved female Yorkie, you should consider many factors, so you pick the perfect one. Try not to give a name that is too complicated or a name that is inconvenient for daily use. Instead, give it a short and cute name!
Another thing to keep in mind is that a Yorkie puppy won't stay the same, so don't focus too much on the physical attributes.
What Should Affect The Yorkie Girl Names
When choosing the name, focus on giving one that suits the personality of your Yorkie. Usually, it's best to not overthink it and make it as simple as possible.
Remember that you are giving a phrase as a name that will be used your whole life. Always consult with your family members and people that matter to you when giving the name.
Breeders often tend to have a naming convention, so if you are getting a Yorkie from an official breeder, there is a good chance that it already has a name.
Another path that you can take in the naming process is the physical traits that your Yorkie has. Many owners name their pet after something that stands out such as its eyes, ears, coat, color, and face.
Don't name your female Yorkie names which are connected to training phrases. That way, you can avoid any problems that can come out in the house-breaking process.
Final Choice – Think Of The Future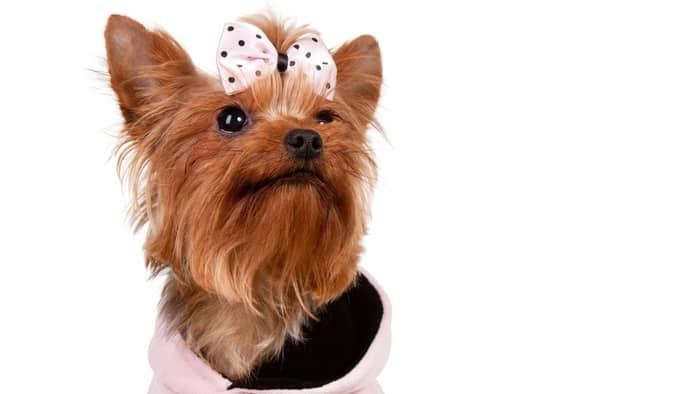 Keep in mind that the name given is going to be used when the Yorkie is a puppy and when it gets old as well. Try to pick a name that is suitable for both old and young female Yorkies.
Other things that you need to keep in mind when going through the naming process are the next ones:
Choose a good dog name with a vowel at the end.
Make a name for yourself and stick to it.
Keep the name to two syllables at maximum.
Avoid using names that have a negative connotation.
Choose a name that is distinct from the names of your other pets.
Choose a clever one who will not be confused by commands.
If you follow these recommendations, you won't have any issues after naming your beloved and fluffy female Yorkie.
We will give you some recommendations that you can choose from. However, there are many more and there is always a way of giving out a more unique female Yorkie name.
Yorkie Girl Names – Picks Which Are Defines By The Size
Many owners name their female Yorkie by their size because they are toy breeds. In other words, they give names that relate to tiny objects, foods, animals, etc.
The most common female girl Yorkie names which are defined by the height and weight of the Yorkie are:
Baby
Bibi
Bubu
Bean
Jellybean
Bee
Biscuit
Bitsy
Bitty
Button
Byte
Chip
Elf
Half Pint
Little
Mini
Minnie
Mouse
Morsel
Munchkin
Nugget
Peanut
Pebbles
Peewee
Pocket
Puny
Rascal
Runt
Shorty
Shrimpy
Smalley
Smidge
Squirt
Teensy
Tiny
Tiptoe
Cute Girl Yorkie Names
Another naming pattern that owners follow is the cute and fluffy names. Owners tend to carry their female Yorkies in purses and bags, so naming them something cute can emphasize their toy breed.
Here is a list of the most popular cute girl Yorkie names, so deep dive into it and find out which is the perfect one for you:
Ant
Atom
Ava
Beetle
Bell
Berry
Bib
Bitsy
Bud
Button
Cherry
ChiChi
Chick
Chip
Demi
Dew
Dixie
Dream
Emelia
Feather
Glitter
Gracie
Grape
Hattie
Jazz
Key
Kiwi
Ladybug
Lamb
Lolli
Minnie
Moss
Munch
Nano
Nibble
Paris
Peach
Penny
Petite
Pip
Pixie
Pom Pom
Seed
Snack
Sprinkle
Tara
Teeny
Tinkerbell
Tiny
Toy
Winnie
Yorkie Girl Names Inspired By Treats And Tiny Foods
Another naming pattern that is dominant in female Yorkie owners is giving out names that relate to foods. There are many owners giving names such as peach, toast, biscuit, and many others. Who wouldn't love a cute little Yorkie named bagel or strawberry!
Here are some of the recommendations we have collected:
Apple
Bagel
Beans
Biscuit
Brownie
Bugget
Butters
Candy
Carrots
Champagne
Cheese
Chilli
Coffee
Cola
Cookie
Crisp
Cupcake
Fanta
Floss
Frosting
Hershey
Jelly
Lemon
Lolly
Macarone
Magnum
Mash
Milky
Mocca
Mochi
Muffin
Peach
Peanut
Pepper
Pepsi
Pickle
Plum
Potato
Pretzel
Raisin
Sherbert
Sugar
Sweetie
Tango
Toast
Truffle
Turnip
Walnut
Unique Female Girl Yorkie Names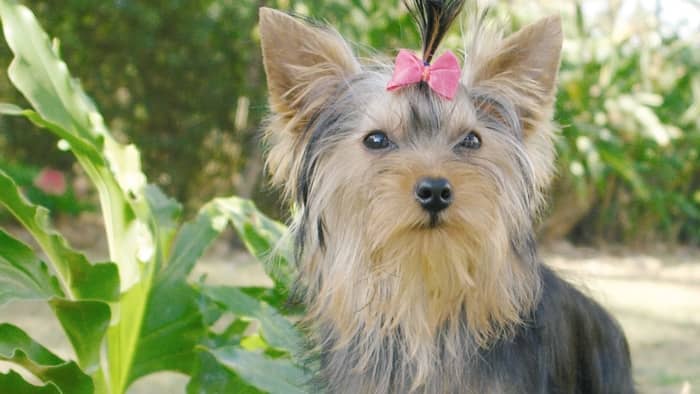 We understand that some owners want something more out of their name, they don't want to give one which is common and often used in Yorkies. There is always that factor of uniqueness that makes you feel proud of your Yorkie.
Here is a list of unique female girl Yorkie names:
Abby
Angel
Annie
Arya
Aspen
Athena
Ava
Bailey
Bella
Belle
Blue
Bonnie
Cali
Callie
Charlie
Chloe
Cleo
Coco
Cookie
Cora
Daisy
Delilah
Diamond
Dixie
Dolly
Echo
Ella
Ellie
Ember
Emma
Evie
Finley
Fiona
Freya
Gemma
Georgia
Gigi
Ginger
Gracie
Gypsy
Harley
Harper
Hazel
Holly
Honey
Ivy
Izzy
Riley
Jade
Josie
Juno
Kali
Katie
Kona
Lacey
Lady
Layla
Lexi
Libby
Lilly
Lily
Lola
Lucy
Lulu
Luna
Mabel
Maggie
Maple
Maya
Mia
Millie
Minnie
Missy
Misty
Molly
Nala
Nova
Oakley
Olive
Oreo
Paisley
Peaches
Pearl
Penny
Pepper
Phoebe
Piper
Pixie
Poppy
Princess
Raven
Remi
River
Rose
Rosie
Roxie
Roxy
Ruby
Sadies
Final Thoughts
Picking a name is a fun and creative process, in some cases even forum suggestions can work. You as an owner need to focus and give the most suitable one for your Yorkie.
There are many names out there, we can't list them all. However, we can give you an idea for a name and with the help of your imagination, you can come out with an even more unique name.
Write us your Yorkie name in the comment sections, we would love to find out even more cute girl Yorkie names!