Last Updated on September 24, 2021 by Marco C.
If you are looking for the best chew toys for yorkie puppies, this is a detailed guide especially for you. Yorkies are active dogs that love playing, catching, and hunting. That is why you have to use their energy in a good way instead of messing around the house. The best thing to invest this energy is through the yorkshires toys including chewing toys. Chew toys have different kinds depending on their material and several benefits as well. Keep reading till the end to know more about these yorkie toys and accessories.
What Are The Benefits Of Chew Toys?
Chew toys are one of yorkie dog toys that your puppy can chew with its teeth to relieve boredom and as a kind of stimulation. A Yorkie puppy needs the chew toys to relieve their pain whilst going through teething, it makes them feel better. Additionally, it strengthens their jaw and cleans their teeth.
Chew toys provide excellent oral hygiene for your Yorkie and help in exercising, physical, and mental stimulation. Moreover, they keep your puppy busy instead of messing up with your furniture or something else inside your house.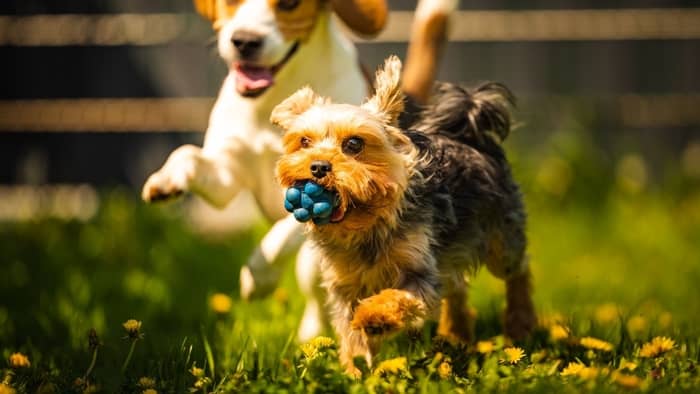 Learn more about: Can Dogs Have Asthma Attacks And What To Do About Them?
What Are The Types Of Chew Toys?
There are different kinds of chew toys, each one is made of a different material. However, all of them must be non-toxic. You can find them all in yorkie toys and accessories stores.
Rawhide
Rawhide chew toys are made of animal skin. They are durable toys that your Yorkie can not break easily. An example of rawhide chew toys is rawhide bones.

Wood

Wood chew toys are soft-wood toys that are safe and non-poisonous. Manufacturers often coat them in bright, vegetable-based dyes or paints. Additionally, they help to keep your Yorkie's teeth trimmed down and prevent eating difficulties. For example, toy ropes.
Paper
Paper chew toys are inexpensive, non-toxic, and non-bleaching paper toys. It is a cheap excellent way to stimulate your dog. For example, Pet Qwerks chew toy

Mineral
Despite being a toy, mineral chew toy will provide your Yorkie with minerals and vitamins in each bite. Manufacturers load the toy with minerals and vitamins that will benefit your puppy's health and mental health as well. For instance, Chew'ems mineral chew toy

Rubber
Rubber chew toys are present in the market in a wide variety of shapes. Additionally, some of them contain holes so you place a treat inside it and your Yorkie has to work on getting the treat.
What To Consider Before Buying Chew Toys?
Do not let anything get into your Yorkie's mouth. Try to avoid chew toys with a material harder than the puppy's teeth because they can break the teeth and harm the gum. For instance, hard bones, cow hooves, elk antlers, and hard plastic or nylon.
Moreover, consider a size that is not too small to make sure that your Yorkie could not choke on it. Read the label on the toy to check what type of coating and if it would cause Yorkie's stomach upset. Finally, choose the one that you can clean easily in a dishwasher or clothes washing machine.
The Best Chew Toys For Yorkie Puppies
Here is a list of recommended chew toys that will entertain your Yorkie puppy
Rocket & Rex Chew Toys

Rocket and Rex is a chew toy pack that contains 6 pieces of toys including a rubber ring with a rope, a rope toy, a plush cow with a squeaker, a green rubber ball with a bell, a blue rubber barbell, and a rubber bone toy with nubs. This is a high-quality product that is made from all-natural materials to ensure the safety of your Yorkie. It is a durable, non-toxic chew toy that is made of cotton and rubber materials.
KIPRITII

Chew Toy
KIPRITII chew toy is a collection of 18 toys in one pack, it is amazing and cost-saving. These toys will provide your Yorkie with all the required toys needed for teething, training, chewing, and interaction. The collection includes rubber bone, rubber dog toothbrush stick, frisbee, 9 rope dog toys, banana dog toy, 2 IQ treat balls, and 3 extra poop bag rolls as a gift. They are made of durable, non-toxic rubber for your Yorkie's safety. 
N-Bone Teething Ring

N-Bone is a highly recommended teething aid that helps relieve teething pain and soreness. Furthermore, it provides your Yorkie puppy with excellent minerals that benefit its health. For instance, it contains calcium that maintains strong bones, DHA for proper brain development, in addition to other ingredients that aid in digestion and are palatable as well.
It does not contain soy, wheat, or corn. However, it is not suitable for puppies less than 12 weeks or 5 lb. N-Bone ring has a very palatable flavor that is chicken.
Puppy Starter Kit
The puppy starter kit is a durable plastic teething bone with lovely bacon and chicken flavor. It encourages healthy chewing habits. Besides, every age and weight have their specific chew as not all ages and sizes chew the same.
Qilmy

Starfish Chew Toy
The starfish-designed chew toy from Qilmy is a very attractive toy for your Yorkie puppy. It has a unique rubber material that makes cleaning your Yorkie's teeth more easily. Additionally, it reduces dental plaque and tartar and improves your Yorkie's oral hygiene. When your Yorkie chews it, the toy will produce a funny sound to engage your puppy for a long time.
Final Thoughts
Yorkie dog toys are an important part of your puppy's stuff. They are important in keeping your Yorkie busy while investing its energy. Chewing toys are non-toxic toys that your Yorkie could chew during teething or playing. They reduce the pain of teething and give your Yorkie puppy a comfortable feeling. Furthermore, it aids in keeping good oral hygiene, physical and mental stimulation. Make sure that the coating of the toy will not induce allergic reactions and the material should not be harder than your puppy's teeth. So, choose the chew toy that fits your puppy's age and size. For further questions, leave them in the comments below.
Read more about: 
How To Give A Yorkie A Puppy Cut?