Last Updated on December 30, 2021 by Griselda M.
Every year, Halloween is a highlight for many families, and it is only natural to want to include your Yorkies with costumes in these activities. Why not bring your dog to Trick or Treat with the kids, or to the neighborhood block party? Few things are cuter than a dog in a costume, and you can even acquire one that matches your own or your children's costumes.
Cute and funny Yorkie Halloween costume ideas
If you have a four-legged family member, chances are they are actively involved in all family activities, including holiday gatherings.
So, when it comes to honoring the spookiest day of the year, your Yorkie will undoubtedly make an appearance at a Halloween party and will be for sure a part of the family's Halloween costume ensemble.
Thankfully, there are a variety of dog Halloween costumes available for different kinds of dogs, from enormous dogs to little puppies. Whether you want to dress your York up as a famous literary figure, one of your favorite superheroes, or some of your favorite foods.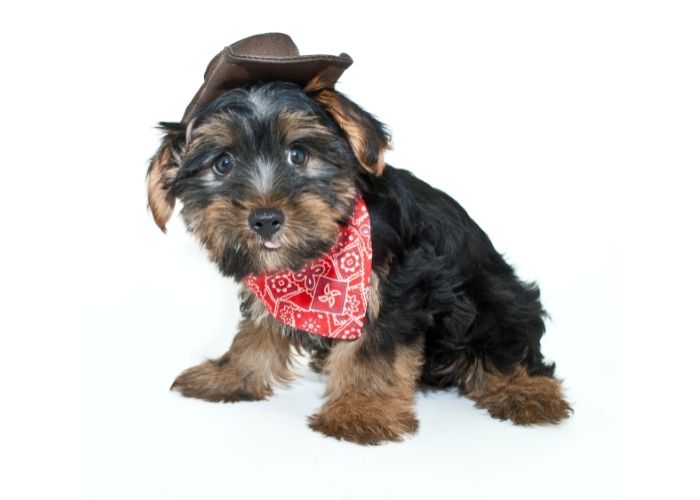 Yorkies Halloween costumes safety guidelines
Keep these considerations in mind before dressing up your dog in any Halloween costume to guarantee a pleasant and safe night for you and your Yorkie.
The most important thing to look out for is to beware of choking hazards, not leave your dog unattended, make sure the costume fits well and the dog is comfortable in it. If your Yorkie is feeling uncomfortable, take it off.
Top 5 Best Yorkie Halloween costumes ideas
1. Superman superhero costume
This Superman Costume is the ideal Yorkie Halloween costume! The particulars will not disappoint you. It's easy to put on and comfortable for your four-leg friend to wear. It's perfect for an event like Halloween or another similar holiday where everyone has their costumes on them.
If your dog's measurements are on the upper end of the spectrum, we recommend going up a size for comfort. Each dog's size is different. Like our apparel and accessories, one designer's medium size is not the same as another's. For example, depending on the designer, our 9-pound Yorkie model generally suits one of three sizes.
Isn't it true that everyone adores Superman? If you and your Yorkie are lovers of the franchise, having your pet costumed like Clark Kent himself would be ideal. Also, maybe you as an owner could dress up like his arch-nemesis or sidekick?
2. Wonder Woman Costume
Can you picture your dog dressed up like Wonder Woman, the lady superhero?  These Halloween costumes for dogs come in sizes S, M, L, and XL, with plans to add other different sizes in the future, and they're ideal for both small and large Yorkies. This Wonder Woman costume is a great DC Comics pet suit that includes a charming red, gold, and blue outfit. Also as well as a gold headgear so that your little furry buddy may proudly trot around looking like one of the best superhero ladies in the world.
The DC Comics Wonder Woman Dog Costume provides a great appearance that you won't get from other companies. This costume comes in multicolor plus is made from high-quality polyester it is easier to clean.
This costume's pros are that it has a large variety of sizes, and its cons are that the skirt may entangle Yorkies legs. Unlike the costume's skirt, another bad thing is that the headband is tough to keep on. There are similar costumes from the DC universe like Batman, Supergirl, Flash, Robin, etc.
3. Batgirl Pet Dress
Maybe you're searching for something a little more extravagant, something that will make your dog appear scary and at the same time still be suitable for a Halloween party? Then this black and gold batgirl tutu dress would be a fantastic choice for you.
The bat wings are doing a great job making it easier to recognize and hard to make a mistake what the costume is supposed to be, while the style and simplicity maintain it sophisticated. It's wonderfully light and soft for your dog to wear, and because it's not a costume, you can use it for more than just that one costume party you've planned.
This costume as well has its pros and cons. The good things about this costume are that it is very high quality, it's soft and easy to put on, while the cons are that it's a bit hard to guess the right size for your Yorkie.
4. Yorkie dog – Pirates of The Caribbean Costume
This pirate dog costume is adorable, comfy, simple to put on, and humorous. The Pirate dog costume comes in four sizes: XS, S, M, and L, and it somehow makes your Yorkie appear like he's going around on two legs instead of four.
These are suitable for Yorkies Halloween costumes. All the Halloween enthusiasts will adore it, and your tiny, fluffy Yorkie will be happy to put it on.
Pros for this costume are that it comes in all three sizes, it's made from high-quality materials, washable in machine, as well as reasonably priced, while the cons are that sometimes it's hard to guess the size and the cape may slide to one side.
5. Glow Bones Yorkie Dog costume Skeleton
This year, are you seeking terrifying Yorkie Halloween costumes? What about this famous Glow Bone costume, which transforms your four-leg friend into a spooky-looking skeleton in an instant? These Yorkie Halloween costumes will delight Halloween fans.
It's a soft t-shirt that comes in a variety of sizes, is machine washable, and looks great on your Yorkie.
Great things for this costume are the designed skeleton that glows in the dark, features a matching hat, as well as its high-quality cotton, so it is machine washable and easy to clean, while the cons are that sometimes it's not easy to guess the size and the headcover might be too large.
Conclusion
When picking a Halloween costume for your Yorkie, have a little fun and think about how you want your little fella to look like. However, you as an owner should always consider how your dog feels while wearing it, as the last thing you want to do is turn Halloween into your furry friend's worst nightmare.
Before deciding on a size, double-check your dog's dimensions, especially if he's young and may have grown since you last measured him.
Read more about Teacup Yorkies Temperament Information.