Last Updated on March 2, 2022 by Griselda M.
In this guide, I will take you through the best yorkie clothes for females for an exceptional fashionable look. The yorkie girl clothes are present everywhere in pet stores with a wide variety of colors, materials, and styles. However, you may wonder what is best for your Yorkie among those yorkies outfits. Dressing up your Yorkie has many benefits not just for their appearance but also for their health. Keep reading till the end to determine the benefits of dressing up your puppies and the best yorkshire terrier clothes.
What Are The Benefits Of Dressing Up Your Yorkie?
Your puppy is exactly the same as your child, it needs special attention and care. As we buy clothes for ourselves, you should not leave your Yorkie naked as well. Here are some reasons why to dress up your Yorkies:
Protection From Bad Climate
Yorkies are sensitive dogs that do not tolerate cold weather. Buying some clothes for your puppy would protect it against bad climates from winds to cold. It provides some warmness to your little furry puppy so it can live healthily and happily.
Protection From Insects
The yorkie girl clothes would provide protection to your pet against some insects, fleas, and ticks. Moreover, it will decrease the chances of biting. Although clothing won't prevent fleas or ticks infections, it can minimize biting your puppy as the insect has to pass through a layer of clothes before getting into the fur.
Reduction Of Allergic Reactions
Although Yorkies are hypoallergenic, they may also cause allergies because there is no true hypoallergenic dog. Yorkies shed less than other breeds and if they shed more than normal, go to the vet to figure out the reason and treatment. It may occur in the case of parasitic infestation, hypothyroidism, or allergies.
Overall, this little shedding may exacerbate allergies to some pet owners. When you dress up your Yorkie, the dander would be caught up in the clothes so the fur and dander won't bother you.
Do Yorkies Like To Wear Clothes?
Yes, Yorkies love wearing clothes, they enjoy the sense of having an extra coat over them. Yorkies do not love the cold weather so covering them will warm their bodies. Additionally, if you dress your puppy up on a cold day, you can together enjoy a nice walk or exercise outside so the weather won't hinder the daily activities.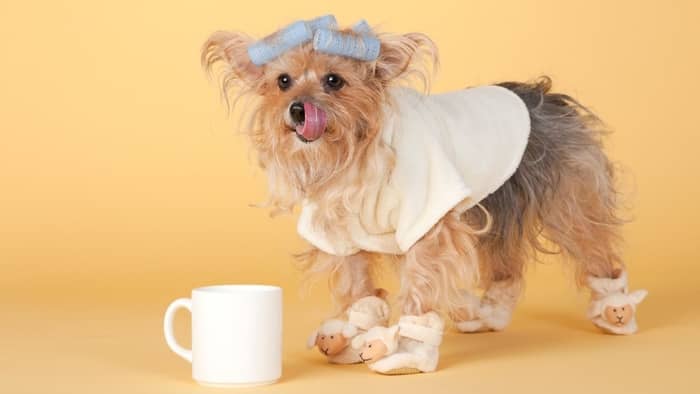 Learn more about: How Often Do Yorkies Go Into Heat?
What To Consider When Buying Yorkie Clothes For Females?
There are some factors you should consider before buying yorkies outfits to make sure that your puppy is comfortable.
Choose The Correct Size
Do not immediately go for any piece that has a label "suitable for Yorkies", however, choose what is best for your puppy. Every dog is unique and each stage has its own weight and length, also, there is a teacup Yorkie that is smaller in size than standard Yorkie. So, I recommend you take your puppy when buying its clothes to pick what suits its size.
Weather
The clothes that fit the summer differ from those that fit the winter. Do not dress up your puppy in light clothes in the winter as they need warmness.
Fabrics
Choose fabrics that do not cause allergic reactions to your Yorkie. Do not buy clothes that would hinder the movement of your puppy, you can buy stretchy material that makes your Yorkie feels comfortable such as cotton and spandex. Additionally, fabrics that are more breathable could be a good choice such as mesh.
Choking Hazards
Be vigilant to anything attached to the clothes like accessories, loose buttons, or snaps. It is recommended not to buy clothes with these attachments as your puppy could swallow them leading to choking.
Color and Design
Females have their own designs and colors that are shiny and cheerful. Additionally, on Halloween or Christmas, you may opt for dressing up your pet in a different custom to celebrate together with the family.
Best Yorkie Clothes For Females
This collection has vests that are easy to put on and take off. Their material is breathable and soft that makes your puppy comfortable. They are best for the winter, fall, and spring seasons.
Additionally, it is suitable for dogs that weigh 4.4-6.6 lbs. They come in different colors and styles to be suitable for everyday wear whether indoor or outdoor. Generally, vests are great for cold days as they provide warmness to the body because they wrap around the chest & back, without leg covering.
Yikeyo produced an adorable dress with two colors, red and pink, to give your female Yorkie a princess look. It is cute and lightweight that is suitable for the summer, spring, autumn, and winter seasons. They are made of cotton that gives your Yorkie appropriate comfort.
Fitwarm

Soft Velvet Dog Pajamas
Fitwarm pajamas are made of soft velvet material, it is very breathable, soft, stretchy, and cozy for comfortable sleeping to your Yorkie. It is easy to wear and take off, if it is time for a potty break, you do not have to take the pajamas off, instead, there is a cut higher in the belly.
Vecomfy Small Dogs Jacket

Jackets are excellent clothes during the winter and rainy days. Vecomfy jacket is made of extra-soft polyester fabric that is soft and comfortable with fleece Lining and polyester filler for warmth. It is durable, breathable, and lightweight.
Moreover, it has a leash hole in the neck of the jacket. It comes in a wide variety of colors including pink, blue, red, green, light blue, and green camo.
Read more about Male Yorkie Clothing – Top 7 Yorkie Fashion Outfits
Final Thoughts
In a nutshell, dressing up your Yorkie will give it a fashionable outlook that will make you fall in love with it more and more. Furthermore, yorkshire terrier clothes will protect it against insects and cold weather in addition to protecting yourself from pet allergies. Put in your mind some factors while buying the right clothes including the size and age of your pet, the season, and fabrics that are comfortable for your pet. For more questions, please keep me posted in the comments below.
Read more about: 
Quick Information On Yorkie Skin Disease; Signs and Treatment