Last Updated on December 26, 2021 by Griselda M.
Male Yorkie clothing needs to be comfortable and good-looking. Instead, you spend hours finding out which one is the best, we have done the work for you.
Clothes for Yorkies need to be small and easy to fit. However, they need to be good-looking and made from good quality fabric. Yorkies are small and fragile dogs, if you want outdoor clothes, they need to be thick and warm as well.
We have collected the best male Yorkie clothes in one list, so you find out the one that suits your beloved Yorkies.
What Makes A Good Yorkie Outfit?
Two factors come into play, the first one being the warmness of the clothes. The second factor is the quality and comfiness. Yorkies being breeds with a thin coat, they need warmer clothes when going out throughout the winter months.
Another thing to keep in mind is the skin condition of your dog, try to get clothes that won't irritate the skin. Sometimes you will need to use a shampoo that helps with issues such as canine alopecia.
And at last, the fashionable aspect of the male Yorkie outfit. Owners tend to make their Yorkies cute for every event and gathering. In other words, the swag of the outfit can bring out the character of the Yorkie even more.
Best Yorkie Boy Clothes
The number one most sold male Yorkie clothing is the Koneseve dog shirt. This piece of clothing should be in every male Yorkie collection.
Made from cotton fabric material, which is breathable and very soft. Give your Yorkie a perfect style as well. Comes in all sizes, but for male Yorkies, the S or M size is the perfect match. Comes in 3 colors, red, green, and blue design.
Easy manageable with the help of a snap button, so you won't have any issues with taking it off and on. On the other hand, it's easy to clean because of the compact design. This piece can assure you that your male Yorkie is feeling comfortable.
This thermal pet clothing is perfect for small breeds like the Yorkie.  It's made from super-soft, thick velvet which is 95% polyester and 5% spandex. The trim is made from 100% ribbed cotton. That is the perfect one for the comfiness of your Yorkie, and it comes in all sizes as well.
All night long, your dogs will be warm and comfy thanks to the soft fabric. The Hedgehog poodle print all over is great for photographs and everyday wear. It has a 4-legs design with an elastic underbelly for optimal fit and ribbed elastic leg openings for extra comfort.
These outfits are perfect for those summer and spring days. Made from cotton blend and polyester. It's the perfect match for small breeds of dogs such as the Yorkie.
It's perfect for costume parties or just making your Yorkie a bit funnier and cute. This clothing comes in 4 sizes – XS, S, M, and L. The weight capacity is between the range of 2.2lbs to 13.2lbs, that way is suitable for all breeds of dogs.
The theme of this clothing piece is mainly developed for male dogs, so your male Yorkie clothing collection needs this for sure!
The Petea Christmas 100% cotton dog shirts are lightweight, breathable, and simple to care for and make your male Yorkie feel more at ease
Sizewise these polo shirts are available in sizes S to L and are suited for extra tiny, small, and medium dogs. Before placing your purchase, measure your pet's neck girth, chest girth, and back length and select the appropriate size based on our sizing information in the description.
The design of this dog classic T-shirt garment is available in 5 colors, with a conventional two-button collar for a fresh and beautiful style. The colors that are vivid and vibrant help your dog stand out from the crowd.
Petea clothing piece is ideal for dressing in the spring, summer, and fall. It can come in green, red, blue, orange, and pink colorways.
The package comprises 4 pieces of dog sweaters in various colors; the size of the sweater makes it suitable for small dogs, puppies, and cats; the varied colors allow you to organize your pets more effectively.
These little dog sweaters are composed of a soft and warm cotton blend material, which provides complete warmth and protection to your pet's body while also providing a sensation of comfort and mildness. The material also has high elasticity, making the garments simple to wear.
The basic yet elegant look makes the outfit suitable for most pets, regardless of their colors or breeds. These cozy dog clothes come in four colors; they are colorful and lively, and they are difficult to fade off after wearing for a long time.
The dog sweaters are designed with a pullover and high elasticity, making them easy to put on and take off. They will not upset your dogs when you dress them up. They will be less hesitant to put on warm and lovely sweaters.
The Gindoor outfit is suitable for small dog breeds, this combination of tie and shirt is going to make your male Yorkie look fabulous. It's made from soft cotton and polyester, and its skin is breathable. In other words, it's perfect for the Yorkie skin.
It's perfect for events that require formal clothing, so your male Yorkie is going to look like a true gentleman. Other than that, it's perfect for summer and spring days because of the breathable cotton.
This outfit has a snap design so it's easy to put it on and off and manage it on your Yorkie. Overall, it's the perfect formal outfit. Comes in all sizes between XS and XXL.
Lastly, the DroolingDog Jacket is perfect for small toy breeds. Recommended weight of your male Yorkie should be a maximum of up to 5.5lbs.
The inside, produced from cotton to keep your Yorkie warm, and the outside is from polyester to keep it dry. It has a zipper design, making it easy to wear.
In other words, this is the best clothing to keep your Yorkie dry. The DroolingDog clothing piece comes in all sizes, and every size has recommended weight and height. The designed colorway is camo, with bright red, blue, gray, and white spots.
Final Thoughts on Picking The Best Yorkie Clothes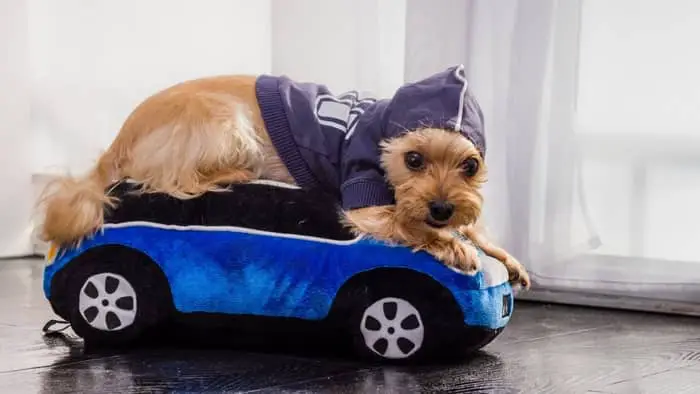 When choosing the perfect Yorkie male outfit, always think of the comfort and happiness of your beloved furry friend. Consider the measurement of height and weight when making the final choice.
If any of these outfits got your attention, we are happy to know it. If you have any thoughts and comments about this Yorkie male clothing, feel free to comment below.
Read more about Introducing The Best Yorkie Clothes For Females.