Last Updated on November 20, 2021 by admins
If you are wondering "what is the best shampoo for Yorkies hair?", here is a complete guide especially for you. Yorkies are well-known for their long and silky hairs that need regular grooming and attention. Yorkie's hair requires regular brushing and special care to avoid tangling that may cause hair loss. If you did not pick the products that suit your pet's hair, alopecia will be a foregone conclusion. Read till the end to figure out the best shampoo for Yorkies hair and how to choose it.
What Are The Types of Shampoo For Yorkies Hair?
There are many types of shampoos to use for your Yorkie. You can use some of them for every Yorkie, however, others can be used in special cases.
All-purpose Shampoo
You can use all-purpose shampoo for every Yorkie that does not suffer from skin conditions. The coat is healthy with no allergies or ticks infestation.
Conditioner
If you want extra care of your Yorkie's hair, go for using a conditioner to give the hair a more glowy and silky appearance and texture.
Dry or Sensitive Skin Shampoo
There are shampoos that are specialized for dogs with sensitive or dry skin. The formula of those shampoos contains ingredients that help soothe the skin, for instance, coconut oils. Additionally, it may contain moisturizers such as aloe vera.
Puppy Shampoo
The skin of your Yorkie puppy is more sensitive and delicate than the adult so it requires specialized shampoo. Also, puppy shampoo should be soap-free and tear-free.
Medicated Shampoo
If your Yorkie suffers from a fungal or bacterial skin infection, the vet will prescribe a medicated shampoo that contains ingredients that help treat the condition.
Pest Repellant Shampoo
Some Yorkie owners opt for pest repellant shampoos to help get rid of flea infestations and bites. After that, they use a flea collar or topical treatment to maximize the shampoo effect.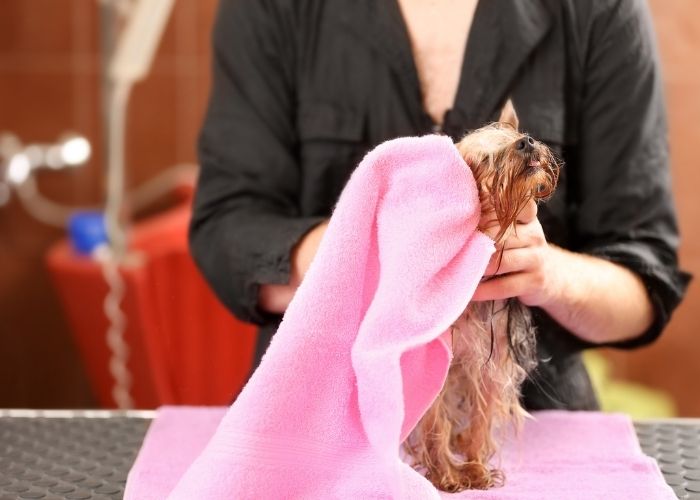 How to Choose The Best Shampoo for Yorkies Hair?
After discussing the different kinds of shampoos, you may feel confused about what to choose and when. Here are some characteristics of high-quality shampoos to look for:
Natural Ingredients
Look for shampoos with natural ingredients, for instance, plant-based or natural oils to avoid skin irritation and allergies. Additionally, this will provide the coat with essential nutrients to improve its health. Moreover, before buying any shampoo, look at the label to see the ingredients.
If you can identify most of the ingredients, go for this product. However, if you do not, stay away from it because it contains lots of chemical ingredients. The more chemicals and preservatives in the formula, the more dangerous it will be.
Hypoallergenic Shampoo
Some shampoos contain in their formula ingredients that may cause allergic reactions to some Yorkies. Most of these allergens are chemicals, for instance, botanicals, cetyl alcohol, some emulsifiers, and preservatives as well.
PH Balance
Shampoos with a PH between 5.8 to 7 are good for Yorkies, however, shampoos with a PH of more than 7 will hurt the skin of your pet causing allergies or dry skin.
The Moisturizing and Soothing Effect
Try looking for formulas with ingredients that give a moisturizing and soothing effect to your puppy's skin. Examples of such ingredients are almond oil, aloe vera, colloidal oatmeal, and coconut oil.
What are Ingredients to Avoid When Purchasing Yorkie Shampoo?
There are many harsh chemicals present in some shampoos causing allergies, irritation, or dryness to the skin. Here are some ingredients you have to avoid:
Parabens
Parabens are chemicals that give the shampoo longer shelf life by acting as a preservative. However, it has many side effects on the skin including itching, dry scaly skin, swelling, burning, and blisters. Moreover, it interferes with estrogen production leading to hormonal imbalances.
Sodium Lauryl Sulfate
This ingredient may cause eye and skin irritation while making your Yorkie's hair look brittle causing its damage.
Petroleum or Petrochemicals
They are present in many products even in puppies' shampoos, however, they may penetrate the skin causing cancers. Additionally, it may cause hair loss because it exerts pressure on the scalp and strands.
How Often Should a Yorkie be Bathed?
You can bathe your Yorkie on average once per month because frequent baths may cause dry skin. Furthermore, you can bathe it more than once per month in case of having dirt or mud on its hair.
Some Yorkie Shampoo Recommendations
1. Best Shampoo for Yorkie Puppies
Puppy Fun, Yummy Orange Shampoo
This is a hypoallergenic shampoo with natural ingredients including shea butter and safflower oil. It has an optimal PH making it safe for your puppy. Additionally, it is a tearless shampoo with an adorable orange smell.
Furthermore, if your puppy licked it, it won't harm it because it does not contain harsh chemicals.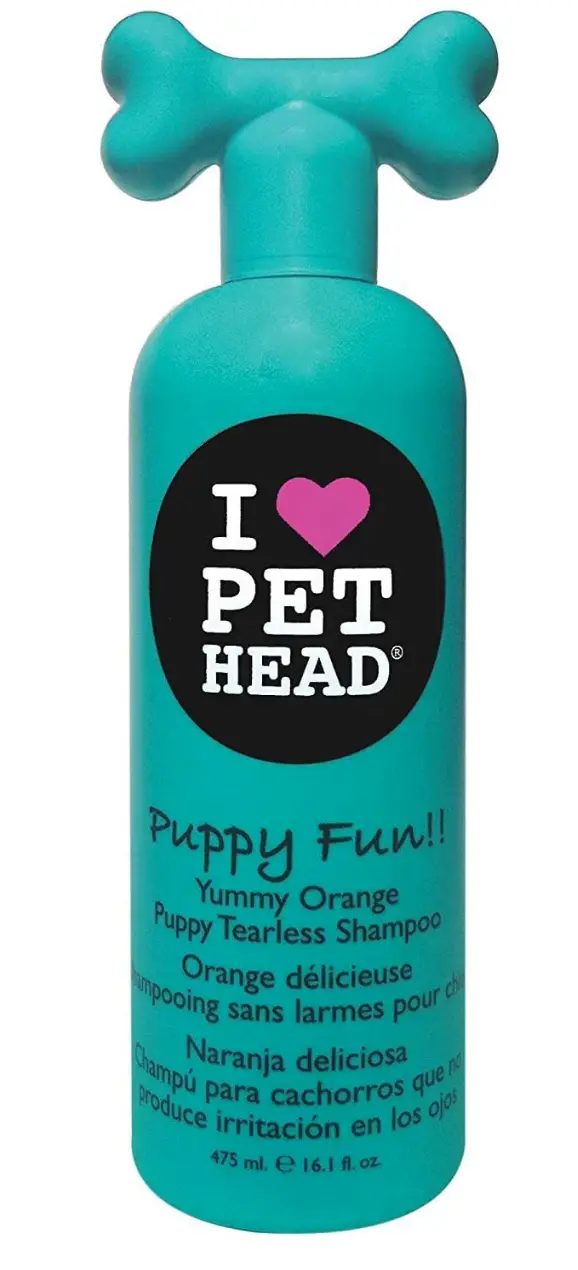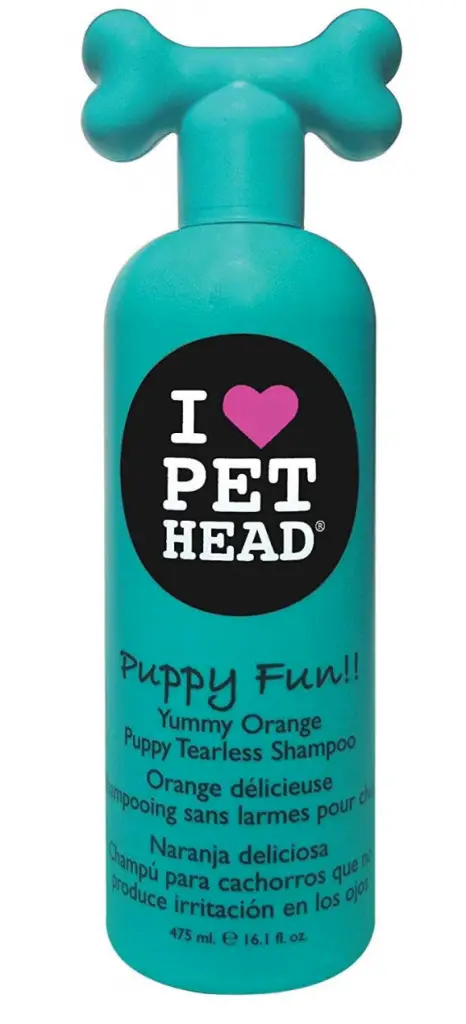 2. Best Yorkie Shampoo and Conditioner
Buddy Wash Shampoo and Conditioner
This shampoo is 2 in 1 as it acts as a conditioner as well. It is free from harsh chemicals with a natural herbal scent. Ingredients of this shampoo include coconut, aloe vera,  chamomile and sage extract, and vitamins E & C.
It soothes your Yorkie's skin and hair making it easy to be groomed. Also, it nourishes the skin through its natural ingredients.
3. Best Yorkie All-purpose Shampoo
This shampoo comes with a lovely vanilla scent that your Yorkie will love so as you. It contains natural ingredients, for instance, oatmeal, aloe vera, vitamin E, and C to help nourish the skin and prevent its dryness. It has an anti-itching effect because of the oatmeal content.
4. Best Yorkie Medicated Shampoo
This is one of the best-medicated shampoos for Yorkies with allergies. It has no parabens, dyes, or sulfate in its formula. It contains natural plant-based ingredients including vitamin E and aloe vera.
Learn more about Yorkie Food Allergies.
Wrap up
Yorkies have sensitive skin and beautiful hair that you should maintain. Choose the shampoo that most of its ingredients are natural and free from harsh chemicals. If your Yorkie is still a puppy, go for shampoo for puppies and after reaching adulthood, you can use all-purpose shampoo. For further questions, please let me know in the comments below.