Last Updated on September 7, 2021 by Marco C.
Going over the 200 best Yorkie poo names female Yorkshire terriers can have most of the time can give you quite a few good ideas for how to name your pup. Of course, there's no reason to go with any of these names – virtually anything you want can be a fun name for your Yorkie.
Even if you don't opt for any of these 200 names, however, you may at least get some inspiration and ideas for the name you'll eventually choose. Or, alternatively, you can look for what names to avoid if you want to be extra contrarian. Either way, check out our suggestions for the 200 best Yorkie poo names female Yorkshire terriers can have below.
32 Most Popular Yorkie Poo Names Female Dogs Have
Naturally, there isn't a great list of all Yorkshire names out there we can use to determine which name is statistically the most popular one. However, having been working with Yorkies, their owners, rescues, shelters, and breeders, as well as other experts for years – we're quite sure that the 32 names below are some of the most famous Yorkie poo names female pups are given.
Pip
Liv
Grace
Brandy
Florie
Bella
Sophie
Callie
Foxy
Emma
Izzy
Lexi
Riley
Ella
Brooke
Mel
Viola
Haper
Ellie
Mia
Ava
Lottie
Bonnie
Hannah
Layla
Binky
Paisley
Chloe
Laurie
Zoe
Missy
Aby
What Makes For A Great Name For A Female Yorkie?
We can list as many names as we want, the best name for a pet is usually one you can find a personal connection with. It can be as simple as the name of a loved family member who has passed away. Or, it can be a favorite actress or a fictional character that your female Yorkie reminds you of. It can be as simple as a cute object or a word that you find funny and that fits your tiny ball of energy.
Whatever it is, however, it has to be personal. So, while you can easily like one or more of the many names we've listed here
Of course, there is a scientific side to dog names too. One thing experts often talk about is that anthropomorphizing pets with human names isn't always the best idea. Then again, that can be chalked to personal preferences too. And, if you're planning on training your Yorkie for something more than the obligatory obedience training and some tricks, names can be helpful with that too. According to experts, the best names for training your dog should be short, clear, and unique.
So, there are many approaches you can take. A dog's name can be cute and funny, it can have nostalgic and personal value, or it can be practical. Or, you can be one of those dog owners who just name their pet "Doggy" and leave it at that – whatever floats your boat.
30 Tiny Yorkie Girls Names
Yorkshire terriers are hardly big dogs and there's nothing wrong in pointing that out – it's another big reason to love them. So, why not go with a name that emphasized their small stature without mocking them for it? Pebbles is our personal favorite in this category but that's just because we grew up with the Flintstones.
Tiara
Bee
Pocket
Rascal
Binky
Pebbles
Bitsy
Chi Chi
Chip
Smudge
Niggle
Confetti
Zu Zu
Paws
Cupcake
Smidge
Boots
Dew
Elf
Fifi
Fizzy
Gem
Gummy
Mini
Jewel
Byte
Missy
Mouse
Tiptoe
Nudge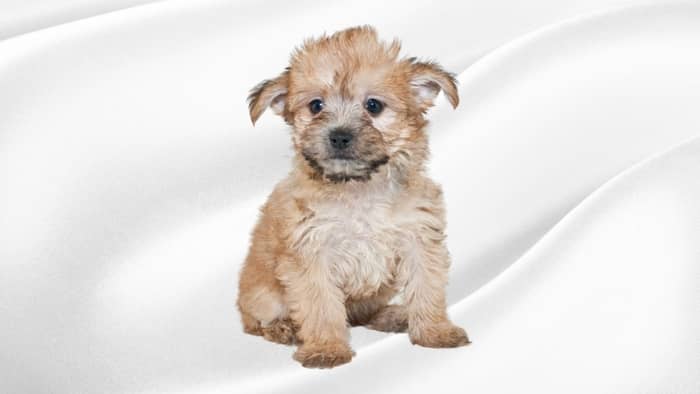 Learn more about: Yorkies Potty Training Problems And What To Do About Them
20 Fancy Girl Dog Names For Yorkies
Female Yorkshire terriers are adorably lady-like, so another good direction to think in is "fancy" names. Want to make your Yorkie look and seem like even more of a queen than she already is? Here are 20 incredibly fancy suggestions although you can undoubtedly think of quite a few more too.
Antoinette
Charlotte
Bunty
Helena
Verity
Cece
Margaret
Victoria
Alexandra
Emily
Mary
Elizabeth
Jewel
Anne
Precious
Annabelle
Maisy
Anouska
Catherine
Ophelia
62 Cute Female Yorkie Names
Of course, if there's one word that fits Yorkies the most, it's "cute". There are many cute names out there to choose from so we can barely just scratch the surface on that one. Still, to give you a few ideas, here are 62 cute suggestions.
Buttons
Liquorice
Dolly
Cadbury
Roxie
Skittles
Hula
Jellytot
Kinder
Snickerdoodle
Lolly
Mento
Twirl
Jasmine
Mingle
Candy
Bon Bon
Nibbles
Baby
Butterscotch
Herby
Sherbert
Rosie
Lily
Daffodil
Whirl
Bubbles
Marigold
Dahlia
Iris
Violet
Peony
Poppy
Azalea
Hyacinth
Petunia
Bluebell
Carnation
Begonia
Star
Droplet
Angel
Whisper
Banjo
Allie
Camilia
Dana
Heidi
Cleo
Marley
Apples
Lulu
Bella
Lucca
Bounty
Sandy
Baby
Mavis
Maggie
Dawn
Ginger
Diamond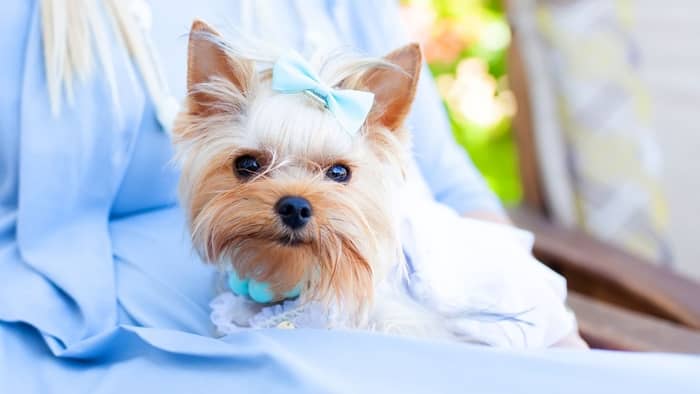 37 Best Female Yorkie Hunting Dog Names
As cute as they are, Yorkshire terriers are hunters, after all. Originally bred as scent hounds to help with hunting, these dogs still have the energy and prey drive of a hunter. So, why not give your female Yorkie a badass hunter's name?
Gamora
Artemis
Willow
Ziggy
Dixie
Pistol
Shiloh
Summer
Aspen
Arwen
River
Payton
Roxie
Aurora
Duchess
Bailey
Marlie
Dakota
Autumn
Dawn
Layla
Rogue
Sky
Arya
Nikita
Ivy
Diana
Dottie
Sadie
Maggie
Trudy
Moxie
Skadi
Neith
Xena
Ziya
Nala
19 Scottish Yorkie Poo Names Female Dogs Can Make Work
Yorkshire terriers may be named after an area in England but most experts believe they were actually brought south from Scottland. Some Englishmen may scoff at that but if you want your Yorkie to feel closer to its Scottish roots, why not go with any of the following 19 names?
Leslie
Garia
Mairi
Coira
Effemy
Grizel
Elise
Moira
Aila
Florrie
Ceit
Skye
Freya
Aggie
Iona
Grace
Kenzie
Euna
Lorna
So, What Name Will Suit Your Yorkie Girl The Most?
Did any of our suggestions above catch your eye? If not, hopefully, we've at least managed to give you some inspiration or a direction to explore. Either way, we'd be happy to know what name you decided to go with. Or, if you have any other suggestions you think people should consider – share them below! Thinking of a proper name can sometimes take days so why not help a fellow Yorkie owner out with an extra idea or two?
Read more about: How Often Do Yorkies Go Into Heat?