Last Updated on January 15, 2022 by Griselda M.
Teacup Yorkie beds, which are the best, and how to choose the perfect ones? If you want to acknowledge that, read this analysis!
Teacup Yorkies are even smaller than the regular-sized Yorkshire Terriers. So, when you are choosing a bed for a teacup Yorkie, try to pick one that is not extremely hard to access. Keep in mind the size and height of it.
The measurements need to correspond with the sizing of the teacup. However, there are other factors that you should consider. Keep reading and find them out!
How To Choose Beds For Yorkies?
When choosing the best beds for teacup Yorkie, think as you are choosing a bed for yourself. Every living being on this earth wants a comfortable place for it to rest and recharge energy. So, aim for soft and comfortable beds.
If you are searching the internet, and you can't find one that is getting your glimpse, go to your local pet store and check what they offer.
However, if you can't find the perfect bed even after looking on the internet and at your local store, consider a custom-made bed. Many owners of Yorkies choose to go with a custom bed.
In that process, you can choose the material you want and design your perfect-looking teacup Yorkie bed. For sure this will cost more, but at least you will fulfill your wish and bring the best bed for your beloved teacup Yorkie.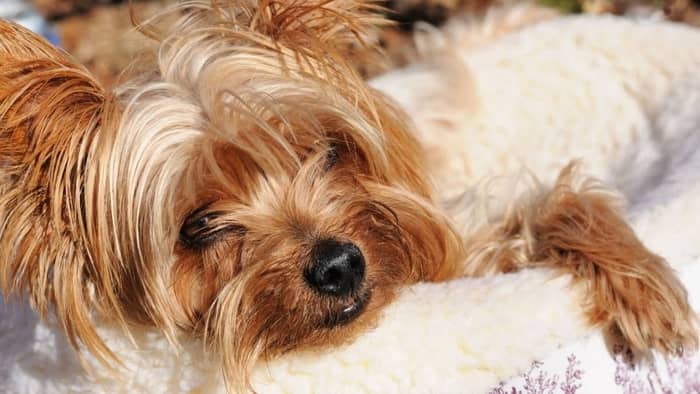 Attributes Of Best Beds For Yorkies
Yorkshire Terriers are a little breed, thus their beds should be small as well, so they don't feel as if they're swimming in them. Yorkshire Terriers are little dogs, thus a small or extra small is the ideal choice.
Most x-small beds are 18′′ by 13′′, whereas most tiny beds are 24′′ x 18′′. Even though Yorkshire Terriers are nimble, you will not want a bed that is too lofty for them because they have small legs and jumping from a height is dangerous.
Puppies have different requirements than an adult Yorkie. Something smaller and more sturdy is required for a puppy. A bed that makes them feel protected and helps them cope with separation anxiety after they've left their litter.
A puppy's bed might even be softer and composed of fuzzier material to remind them of their moms. Senior Yorkies want comfort as well, but it must be in a supportive manner.
Your elder Yorkie, who is normally around 10-12 years old, will most likely walk a little slower and will want a bed that is simple to get on and off. Yorkies are known to develop leg and knee difficulties as they age, so their bed will need to be firmer and give pressure point relief.
Fortunately, many various types of dog beds may meet a wide range of requirements, making it easier for you to make an informed decision.
Teacup Yorkies Beds For Healthier Yorkies
An orthopedic dog bed is sometimes the ideal dog bed for Yorkies. These are designed to help Yorkies from developing joint and bone problems later in life.
There are a variety of orthopedic mattresses for dogs on the market, and you'll want to seek something built of high-quality materials that will give adequate support for your dog.
An orthopedic dog bed provides additional support for a dog's bones and joints, particularly the hips and elbows. When a dog is lying down on an orthopedic bed, it should be unable to feel the ground through the bed.
Memory foam is used in certain orthopedic dog beds, although any filling may be orthopedic if it is thick, sturdy, and offers adequate support.
Many non-orthopedic dog beds, on the other hand, are filled with cedar chips, cotton filling, or polyester filling. This is acceptable for dogs that do not require further assistance.
However, the filling might settle or split in a way that causes your dog's bed to seem like it's falling apart, indicating that your dog isn't getting adequate support.
Another factor that we need to keep in mind is skin allergies. Try to pick teacup Yorkie beds that are made out of hypoallergenic materials. That way, your Yorkie won't feel skin irritations when they are sleeping.
Comfiness Or Fancyness – Which Matters?
The eternal dilemma, comfiness or fanciness? Well, the answer is obvious if you are a good owner and know what your Yorkie needs for its perfect life. Always focus on providing a soft and comfy bed for your Yorkie, the looks don't matter.
You should go for a fancy look second. In other words, try to get a bed that covers all the health-boosting attributes first and then go for looks. Only, in that case, we would approve a fancy-looking bed. So, a soft and orthopedic bed is a must. Try to avoid beds with polyester or beds which are too soft or hard.
Luxury Beds And Princess Yorkie Beds
If you are sure about your choice of a luxury bed, there are a few options you should consider. Many owners overpay for these beds which can sometimes cost up to 1500$ or even more. Luxury beds should be well-defined and ergonomically made. Additionally, should fit in the furniture layout in your home.
Sometimes these Yorkie beds have extra stuff and won't look good to display in your home. So, choose a thematic-looking bed, which explains the name of your Yorkie or its personality.
A good example is princess Yorkie beds. Usually, owners name their female Yorkies cute girl names. So, a pink-looking princess bed will surely go well with a princess-sounding name. These beds look like human king-size beds with some pink elements to them.
In other words, if you want to go for a luxury bed, don't go for something too chic and choose one which is well designed without too many colorways.
Conclusion
Teacup Yorkie beds are a must. When purchasing a bed, try to get one that is soft, comfortable, quality made, good looking, and don't overpay for them. Keep in mind that a bed needs to be the perfect sleeping place for your Yorkie.
If your Yorkie has joint or hip problems, aim for an orthopedic bed. On the other hand, if it suffers from skin conditions, try to get hypoallergenic and easy to clean bed.
If you have any other thoughts on this topic, comment below and share your thoughts!