Last Updated on December 10, 2021 by Griselda M.
Trimming your Yorkie at home is a nice way of saving money, so in this article, we will go through one of the best dog clippers for Yorkie! If you go and search for the best dog clippers for Yorkie on the internet, you will see that there are endless types from which you can choose.
What Clipper Blade To Use On A Yorkie?
It's important to use the correct dog clippers while trimming the hair into a puppy cut. Human clippers may function on such delicate hair, but the motor will eventually wear out. A decent pair of dog clippers should feature a strong motor (up to 3,000 revolutions per second) that keeps cool even when used for long periods.
Maintenance
A high-quality pair of dog clippers will require minimal upkeep. On the box or the website, look for promises that the clippers will stay lubricated for up to 100 hours without needing to be oiled.
Over several years, a good-quality pair of professional dog clippers will save you a lot of time and work. Choose clippers that are convenient for you. It's better to purchase in person so you can feel them in your hands.
Blade number 4
A variety of blades comes with dog clippers. When you cut your hair, the lower the number on the blade, the longer it will be. For a puppy cut on a Yorkie, a number 4 blade is appropriate. You may apply it on all of the Yorkie's body except the head and feet, and it leaves the hair approximately an inch long.
Blade number 7 & 7F
These clipper blades are great for fine-tuning the puppy cut on your Yorkie. They are somewhat shorter than number 4 and give a slightly shorter cut. You may apply them to the chest and abdomen of a Yorkie. The number 7 is a skip-tooth blade with coarse, irregular teeth that is very useful for matted fur.
The number 7F features a smooth, uniform finish because of its even teeth. To achieve the finest results from the number 7F, brush your Yorkie's coat well before applying it.
Blade number 10
The number 10 blade cuts faster than the number 7 blade. It may be of use to smooth out the chin, backs of legs, cheeks, and ears. When clipping a Yorkie's face, use caution. Before you do this, make sure your dog is familiar with the clippers. You may also make a unique cut on the face and whiskers using scissors.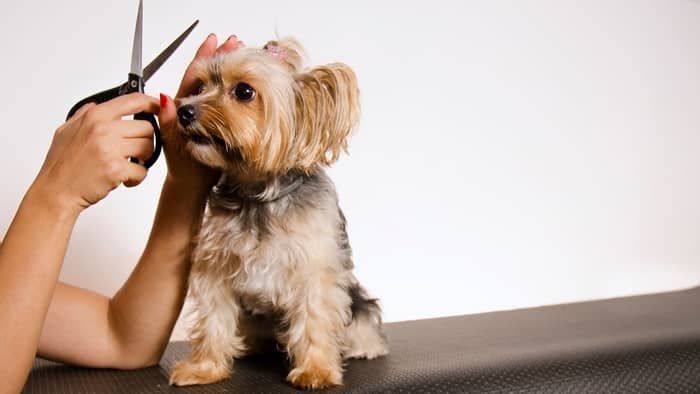 Best Clippers For Yorkies
It's critical to get the best dog clippers for Yorkie. The appropriate clippers will make grooming your Yorkie simpler, assist you in creating an appealing Yorkie haircut, and, most importantly, decrease the risk of injuring your furry friend. These are our top recommendations:
This may be it if you desire what the pros have. This clipper is suitable for all coats and breeds, and it easily cuts through matted fur. Cordless clippers of this kind are uncommon, but the extra-long 14-foot cable makes maneuvering around your dog and equipment a breeze.
These are high-end clippers with a high price tag, but with shatter-resistant housing and a removable, replaceable blade, you may never need to buy another pair.
This 1.7-pound pair of clippers has a heavy-duty appearance and feel, and you'll know it's made of high-quality materials when you hold it in your hand.
With an extremely sharp number 10 steel blade that goes through a specific hardening process that keeps it sharper for longer, the trimming component matches this quality. The steel blades might become heated after lengthy use because of the high working speed.
This dog grooming clipper has a novel type of 33 teeth titanium-ceramic blade combined with a ceramic moving blade, as well as a curly-wavy coat and long coat design, allowing the ceramic clipper to cut the double-thick coat with ease.
Cutting is smoother, heat dissipation is more consistent, and durability is greater than with a typical 24-tooth cutter head. The sound and vibration of the pet clippers usually make a section of the pet feel worried and uneasy.
Our pet grooming equipment, on the other hand, produces just approximately 50 decibels when in use, allowing the pet to relax and no longer be terrified of being groomed. You don't have to be concerned about frightening or injuring them.
Hansprou professional quiet dog clippers have strong power, no hair sticking, plug and play, no need to charge, to give strong and consistent power. You may use it to quickly trim your pet's hair and cut through it smoothly.
The combination of a high-quality titanium alloy blade with a ceramic moving blade produces exceptional cutting results.
Detachable blades are simple to alter and clean. Hansprou's innovative 35-tooth cutter heads are sharper, more durable, and more efficient than standard cutter heads. Long-haired rabbits, for example, cannot be clipped by ordinary clippers, but Hansprou cutter heads can.
The noise generated by the pet clipper is just approximately 40 decibels, allowing the pet to relax and no longer be terrified of being clipped.
Interesting Puppy Cuts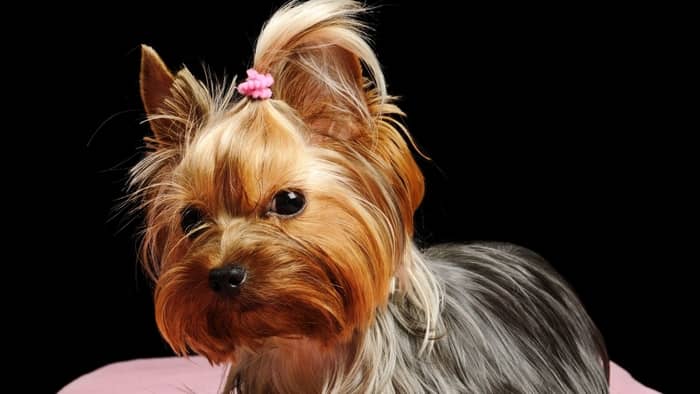 Here are some haircut ideas for your Yorkie:
The saddle cut
For the appropriate length, select a snap-on comb. Over a number 10 blade, place the snap-on. A number 4 blade can be used for a shorter cut. Cut down the back to the tail, starting between the ears.
To level out the hair, go back over with the Clippers and trim the whole saddle as well around the neck, merging it into the skirt and legs. Cut the skirt, legs, and face to the length you choose. You have the choice of keeping the Top Knot or forming bangs by reducing the hair around the eyes.
The puppy cut
This time, you'll use the snap-on-comb all over your body. Choose one that fits your desired length and apply it to your entire torso and legs. Use a number 4F if you want to go incredibly short. After you've finished using the clipper, use your scissors to level everything out.
The Top Knot is normally not present in the puppy cut, however, it is entirely up to you.
Read more about Grooming styles for your Yorkie poo!
Final Thoughts
It might be hard to find the best clippers for Yorkie, so you can groom your dog at home. There are several factors to consider, and it might be hard to determine which are the most crucial if this is your first time. To find the clippers your dog requires, take the time to consider its temperament and hairstyle.
Learn more about Introducing Different Yorkie Hair Types…Grooming and Hairstyles.