Last Updated on November 24, 2021 by Ana P.
If you decide to adopt or buy a Yorkie male, this list of dog names for Yorkies males will surely help you pick the perfect one.
When you are in the naming process, try and wait some extended period to get to know your Yorkie and see his personality. That will surely give you direction toward which name is the most suitable for it.
These little, tiny furballs will often be energetic and spread happiness in your home. So, choosing a cute name is a must. Here we will cover the most popular ones and help you add your traits to your Yorkie name.
Naming Your Yorkie – Tricks And Tips
When choosing the name, keep in mind that your Yorkie will get used to that phrase for the rest of its life. It's good to consult with your family and friends when picking the name. However, often owners try to avoid common name ideas and overcomplicate the picked ones.
Think about a simple name that is not complicated and, it's not in use often. In case you want a pitch-perfect name, there are many factors that you should consider.
One of the many factors can be the physical look of your Yorkie, such as its coat, eyes, ears, or any other body part. Usually, breeders will have a naming convention pattern, so you are free to use that name as well.
Another factor can be the personality of your Yorkie. If it's a Yorkie that is active and shows dominance, take that as a factor in the naming process. As you know, Yorkies tend to have a bold and big temperament, so it's significant to give a name that matches that personality.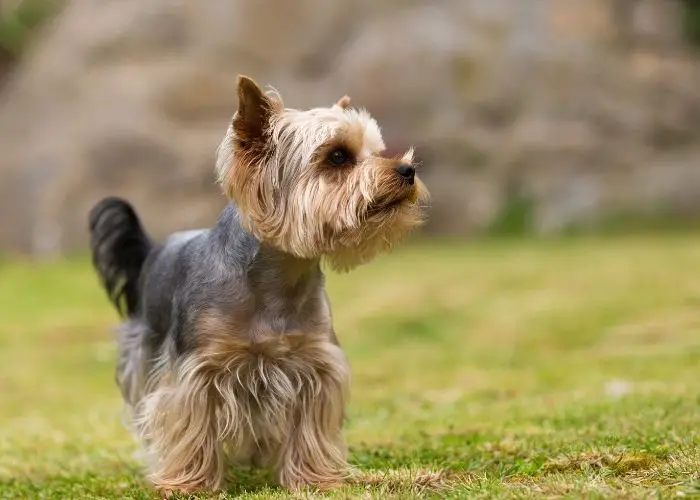 What To Avoid When Naming Your Yorkie
There are a couple of names that you should avoid, as many of them can have a negative contribution to your Yorkie training and growing process. We will cover some of those who need to be averted:
The name needs to be unrelated to command phrases. One good example is: "stay" and "may".
It's not right to name your dog, thinking it will always be a puppy. Choose a name that will be suitable when your Yorkie grows as well.
Avoid names that sound sarcastically or ridiculous. You don't want to blush when calling back your dog in the park.
After you understand some of the things you need to avoid, the next step is to make the final decision of choosing the unique name of your Yorkie.
Find out more about How Much Is A Miniature Yorkie?
How To Choose Unique Male Yorkie Names
There is no strict way of choosing a name, but there are some guidelines that you should follow to come up with the one that is the most unique.
You can check online community forums to see which names are most often in use. That way, you can dodge any name that is too common for a Yorkie.
Another way is to use a dog name generator. You will get some ideas on dog names so you can craft your coinage.
We put some effort into picking out the most unique and cute male Yorkie names. So, we hope you will like them and get some inspiration in choosing the right one for your Yorkie.
40 Cute Male Names For Your Fluffy Yorkie
We are not saying that these 40 names are the most popular because we cannot have that statistic. These are some of our favorite names for your little fluffy friend, and if online forums are to be believed, several of them appear to be reasonably popular.
Teddy
Chico
Porkchop
Axel
Chewy
Leon
Rufus
Theo
Benji
Humphrey
Jonas
Robin
Wally
Toby
Hopper
Tracker
Boris
Harry
Elmer
Tito
Maxx
Jake
Paws
Danny
Oxford
Tom
Levy
Arlo
Buddy
Elson
Charley
Lenny
Frankie
Quill
Chester
Jogger
Guinness
Prancer
Admiral
Lucus
Teacup Yorkie Boy Names
Teacup Yorkie boys are incredibly adorable, and they deserve equally adorable names. Of course, you may use any list of Yorkie male names for this. Any human man's name will do for a male Yorkie, especially if it has personal meaning for you. However, if you're searching for something different, here are some ideas:
Ace
Alfie
Andy
Archie
Arlo
Artie
Bailey
Banjo
Barry
Baxter
Benji
Blue
Bozo
Bruno
Cash
Champ
Charlie
Chester
Cooper
Clyde
Como
Denver
Denzel
Deputy
Dexter
Diesel
Digger
Dude
Duke
Edgar
Edison
Edward
Einstein
Eliot
Ember
Enzo
Gandolf
Gary
George
Ghost
Gino
Gregory
Gumby
Harley
Harry
Hector
Henry
Hickory
Hugo
Idris
Iggy
Igor
Ike
Ink
Inman
Isaac
Jake
Jasper
Jax
Jerry
Jet
Joey
Julius
Jupiter
King
Kirby
Kobe
Kody
Kona
Kool
Lester
Levi
Logan
Lincoln
Loki
Luca
Marlo
Marshall
Maverick
Maximus
Mickey
Milo
Murphy
Nemo
Neo
Newton
Nico
Noah
Ollie
Oreo
Tucker
Oscar
Pepper
Peyton
Phoenix
Picasso
Pongo
Prince
Quentin
We've seen some fascinating patterns, such as the increase of -er names like Cooper, Dexter, and Tucker, as well as legendary names like Thor, Odin, Loki, and Zeus, among others. Thor and Loki have risen over 50% in the ranks since last year.
Of course, the oldies are still popular, like Max and Charlie to tough Rocky and Duke. All of them remained in the top ten.
Pongo, Milo, and Noah were the three fastest-rising male dog names of the year, while Levi and Archie made their first appearances in the top 100 this year.
Final Thoughts On Dog Names For Yorkies Male
The reality is that you can choose whatever you like. Dog names for Yorkies males may get inspired by a variety of things, including food, pop culture, and environment as well. What matters the most is that you like the name. You want to experience a spark of joy every time you say it.
Petite dog names can also be influenced by their size, but they do not have to be. The finest puppy names are ones that make a statement. Whether it's about you, your dog, their appearance, or their personality.
Try calling out your best selections as if you were calling your new puppy in for food, or to come back to you at the dog park.
If you have any other suggestions about Yorkies' male names, comment down below.
Learn more if Yorkies Like To Cuddle?