Last Updated on December 3, 2021 by Ana P.
Even the most well-trained dogs can make an accident, so the solution might be to get diapers for Yorkies. Tiny Yorkies are the companions who require a lot of attention and love, and of course, you don't want them to be untidy since they are not learned or capable of peeing and pooing in specific locations.
Using the best Yorkie diapers might be the most effective way to stay out of trouble until your Yorkie learns to keep himself clean. In short-term problematic situations, dog diapers are helpful.
Dog Diapers – Reasons
Incontinence is more common in older dogs, although it may also cause by disease or even excitability. Any dog can have an accident from time to time, in which case a diaper is unlikely to be essential.
If your dog's incontinence is unusual and chronic, a visit to the veterinarian is required to rule out infection or illnesses such as diabetes. Dog diapers might be an excellent option if your dog has an ongoing potty problem that the Yorkie can't have control over it whether it's temporary or long-term.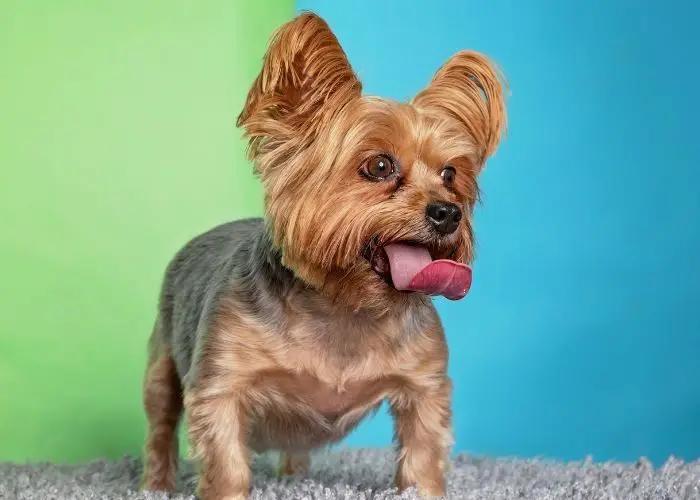 Illness
For dogs, urinary tract infections are a common cause of incontinence. Diapers for Yorkies can also be used on a disabled pet or as a temporary solution following a veterinarian procedure.
Training
Diapers can help preserve your home's furnishings during house training, but you shouldn't use them as a crutch—your dog should still learn to do their business outdoors using traditional potty-training techniques.
Some trainers say that you can use diapers as part of a thorough house-training program, but you shouldn't use them as a last choice and only when the dog is nearly 100% trained.
Problems With Behavior
Male dogs can exhibit marking behavior by peeing on just about anything. It might be frustrating when your dog selects your shoes as a marker instead of a tree or a fire hydrant. Therefore, many pet parents opt for belly bands, which are essentially male dog diapers.
Diaper Types
Which type of dog diaper should you purchase? There are several options available, ranging from disposable to do-it-yourself. Each dog diaper should have a waterproof outer layer and an absorbent inside. Some brands feature a "wetness indication" that tells you when it's time to replace it.
The following are the most common types of dog diapers:
You can throw away
the dog diapers
You can wash the dog diapers and reuse them
Suspender diapers: Suspenders can help keep a dog's diaper in place, whether they're sold separately or as part of a design
You can make dog diapers at home
Dog Diapers For Female Yorkies
We can say that pet parents' washable diapers are one of the finest diapers for Yorkies based on their astonishing ratings on Amazon. But let us nevertheless give it justice by highlighting its best characteristics. That is a washable, absorbent diaper with a waterproof outer layer. It ensures that there are no hazards that might harm the sofas, carpets, or rugs.
The diaper is quite simple to use. Yorkies, in my experience, are typically at ease in them. On the inside of the diaper, there is no unpleasant texture. It's straight and smooth with the Velcro clasp. It also does not adhere to the fur of Yorkies, unlike some other types of diapers on the market.
This type might be an amazing solution for you if you're seeking a very basic diaper for your Yorkshire terrier. It's great for regulating heat cycles, incontinence, and hyperactive urination when traveling.
Diapers are made to comfortably suit your little pet. Even when pet owners are not watching their dogs, the leak-proof fit provides them peace of mind. You won't have to be concerned about any spills on your carpet or sofa.
The paw-inspired diaper is also suitable for pets. Because of the fur-friendly material, it prevents furs from sticking to the diaper. Overall, the diaper protects your house protected while allowing your dog to roam around freely.
Best Dog Diapers
For those searching for environmentally responsible items, Vecomfy is also reusable. It may be machine washed and retain its grip after multiple applications. The diaper includes tape closures that suit your pet snugly.
The microfibre in the central portion is another distinctive characteristic of this diaper. It keeps your dog dry for a long period and avoids leaks.
Urine leakage is prevented by the waterproof outer layer. That safeguards your house and keeps it clean. And it will stay fixed on the waist no matter how wriggly your dog is until you are ready to take it out. There are no worries for you or your canine companion with this diaper.
Although they do range up to a size big, the JoyDaog Small Dog Diapers are great for female dogs and are ideal for smaller dogs and pups. These diapers include a built-in, super-absorbent pad that protects against any size leak for a long time.
Your dog will also keep drier in them, so there will be no unpleasant sogginess. Reusable, washable, and long-lasting, the JoyDaog Little Dog Diapers are ideal for small dogs. The fabric allows these diapers to breathe far better than other brands, according to reviewers.
We recommend Top Paw Disposable Dog Diapers if you have an older dog with incontinence. These disposable diapers are sold in packs of 30 and come in four sizes (small through extra-large).
They're easy to put on elderly dogs because of the adjustable hook-and-loop tabs, but you can't depend on a pleasant, non-irritating fit.
Small Doggie Diapers
Puppies and smaller breeds will benefit from So Phresh Washable Diapers. Adjustable tabs let you obtain the perfect fit for dogs weighing 3 to 8 pounds in the extra-small size.
These small diapers successfully limit mishaps while keeping your pet happy, thanks to very absorbent microfiber padding, a moisture-wicking interior, a leak-proof barrier, and fast-drying outer fabric.
With OUT! Disposable Male Dog Wraps, you can keep canine accidents hidden. With these male doggy diapers intended for comfort and efficacy, you can protect your furnishings and carpets from even the most persistent of tinklers.
They're incredibly absorbent and have an adjustable, fur-safe fit, plus they'll never let you down when it comes to leak prevention. With incontinence protection designed with male dog comfort in mind, go from nonstop puddles to blissful hugs.
Conclusion
So, in this article, we see why dog diapers have an important role in your life as a dog owner.
For both you and your dogs, a dog diaper offers a world of comfort and convenience. It is made of leak-proof fabric with fasteners for your dogs and canines to wear easily and comfortably.
The dog diapers assist you in maintaining ideal house cleaning while having fun with your puppies and dogs. These diapers are made to fit securely around the dog's waist and may be modified to match the dog's needs.
Next, learn all about Yorkie Ear Infections.